Non-members can now buy the same award-winning wines without a subscription! Just head to our Wine Store. You will see the prices listed with each bottle.
Member Exclusive - You will receive each Firstleaf wine at just $14.99/bottle if you purchase six or more, regardless of list price. Just look for the Firstleaf badge! This price change will be listed at checkout.
Firstleaf wines are the only wines eligible for our member guarantee and pricing. If you need more information about a particular wine, please refer to the About This Wine section in the online Wine Store. If a wine is not eligible, you will see "NOTE: This is NOT a Firstleaf Club wine and is not eligible for discounts, member pricing, or member guarantee."
All Firstleaf wines will be labeled as exclusive in the Wine Store. These wines are always available to you at member pricing, and have the Firstleaf satisfaction guarantee!
Once in the Wine Store, you can search for wine by Color, Region, or Grape Varietal. You can mix and match the order to your liking. If you order 12 bottles you will get free shipping!
Just click on any wine to view more details about it. You can see all the awards it has won, more information about the wine and its region, flavor profile, tasting notes, and suggested pairings!
If you like what you see, just click Add To Cart. Once you're ready to check out, go to the shopping cart at the top-right-hand corner of the screen and click Continue To Checkout.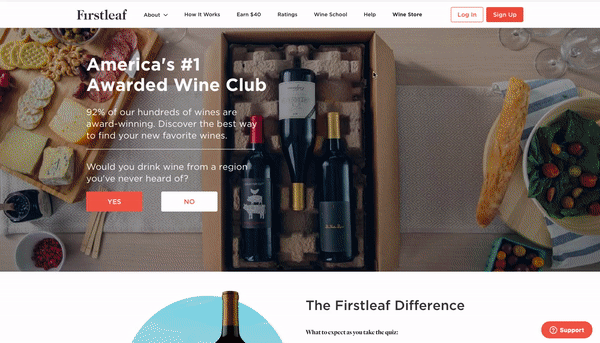 Need to remove a wine from your cart? No problem! Simply click the little grey "X" to the right of the wine you'd like to remove.
All 12-bottle orders will get free shipping! For even more savings, check out our Featured Bundles. All of these bundles are available to both members and non-members, are hand-selected, and priced just right!
If you have any questions, or just want to talk wine, our Wine Concierge team is always standing by! You can reach our Concierge team at 1-800-461-7203. They can make recommendations on what wines will best match your taste profile!