We want you to be 100% happy with your wines and we believe that you should never have to pay for something you don't like!
If you're not satisfied with the taste of a wine we've sent, or you have a missing/damaged bottle; we'll credit you for it, where legal. Just reach out to us at service@firstleaf.com within 30 days of delivery. You will receive a Firstleaf store credit!
Discovering new wines is a process and it takes us some time to learn exactly what you like. By rating the wine, you help us understand exactly what you like and dislike. Our Wine Concierge team use that feedback to pick the wines in your next shipment— that's how Firstleaf gets better with every box!
You can rate your wines by following these few simple steps:
Log into your account here

Click on Ratings at the top of the page

Rate the wines with a thumbs up or thumbs down, or leave it blank if you feel neutral

You can also use the gray comment box to let our Wine Concierge Team your own thoughts about any wine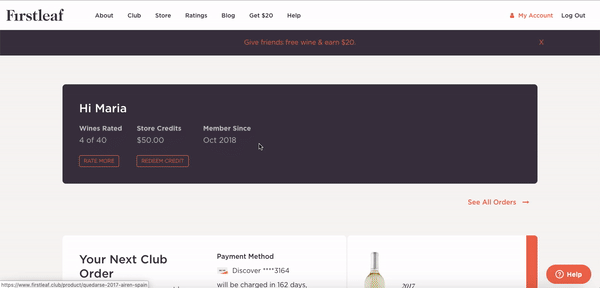 If you'd like assistance in placing a custom order to your liking, reach out to the Wine Concierge team at 1-800-461-7203. They can make recommendations on what wines will best match your taste profile!