What happens after my first order? After you try the introductory order, we will send you a six-bottle club shipment based on your unique taste preferences. You can choose to have these customized orders go out anywhere from every 2 to 12 weeks! You can also double your order and opt to have 12 bottles sent.
What types of wines are available? We work hard to find the best wines from around the world for our members. The list of wines we offer is constantly evolving to feature new varietals from 5 continents and 12 countries - ranging from sweet to dry, restrained to bold, light to full-bodied and more.
What is the cost of future shipments? After the introductory shipment, 6 bottle club orders will be $90 - $120 (depending on which membership plan you select), plus $14.95 shipping and taxes. You can double your club order and receive two each of the selected wines. With the 12 bottle club orders, you will also receive Free Shipping! (Free shipping is not valid in Alaska or Hawaii.)
Why rate your wines? We want to encourage you to rate your wines! This is the best way to let us know what you think of your shipments. As you rate your wines, our algorithm and wine experts learn more about your tastes. These ratings are then used to curate your next box. Rating your wines ensures that your club shipments get more personalized with each delivery!
You can rate your wines by following these few simple steps:
Log into your account here
Click on Ratings at the top of the page
Rate the wines with a thumbs up or thumbs down (or leave it blank if you feel neutral)
You can also use the gray comment box to let our Wine Concierge Team know your thoughts about the wine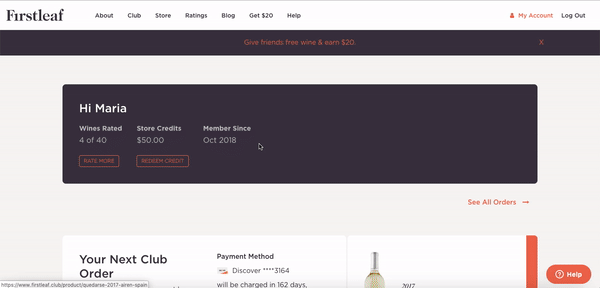 To postpone or delay the date of your next order, follow these easy steps:
Log into your account here
Go to the Club Orders page at the top of the screen
You can see the date of when your next order will ship
Click the date to make any changes to Frequency or Scheduling

Note: frequency can be set anywhere between 2 - 12 weeks

Select any date from the calendar, and click Save
You will see the message "Saved! We updated your settings"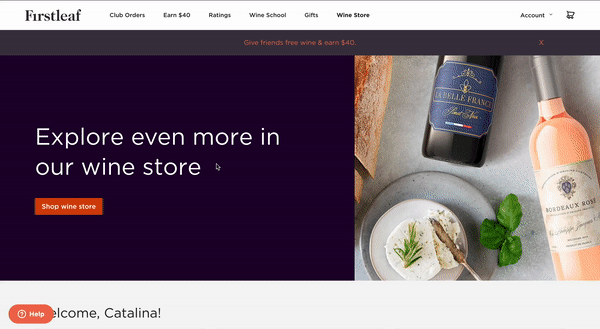 You can also send a message to service@firstleaf.com to let us know when you'd like to receive your next shipment.
Note: By placing your 6-bottle introductory order you're enrolling in the club for future 6-bottle shipments of wine. But if for any reason you're unhappy with the club, there is no commitment, minimums, or cancellation fees. Just call 1-800-461-7203 to speak to a member of our team. We're here 7 days a week from 6am - 5pm PST, and are happy to help!