Firstleaf Wine Club is the an approachable wine club membership that suggests wines tailored to you based solely on your tastes, preferences, and ratings. The best way to give us feedback is to rate your wines!
As you continue to rate and comment on your wines, our algorithm learns more about your specific palate for wine. That way, Firstleaf gets better with every box!
Want to earn $10 off your first Club Shipment? Go to firstleaf.com/ratings. If you rate the six wines from your introductory shipment, you will get a $10 credit towards your next Firstleaf purchase!
You can rate your wines by following these few simple steps:
Log into your account here
Click on Ratings at the top of the page
You will be prompted to Rate Your Past Wines/Edit Your Ratings
If you have any notes or comments, use the gray comment box to let our Wine Concierge Team your thoughts about a particular wine
Next, rate the Wine with a thumbs-up/down
Even though it may look like the rating was not saved, rest assured. Your rating has been saved. Any positive rating has been moved to the section Reorder From Your Liked Wines. Any negative rating has been stored in your Rated Wines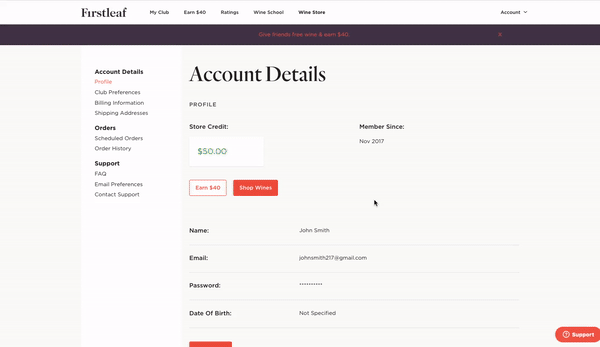 You can also rate wines from the See All Unrated Wines section. Follow the same steps as above to let us know what you think!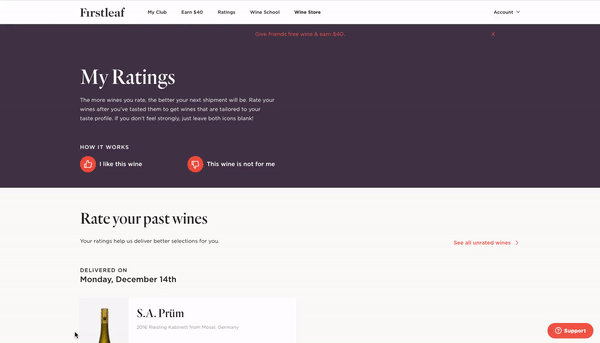 To see/edit any ratings, just follow the steps below:
From the Ratings page, scroll down to the Edit Your Ratings section
Click Show Ratings on any past order to View or Edit your ratings
Change your ratings using the thumbs up or thumbs down
You can also Add or Change your comments on a wine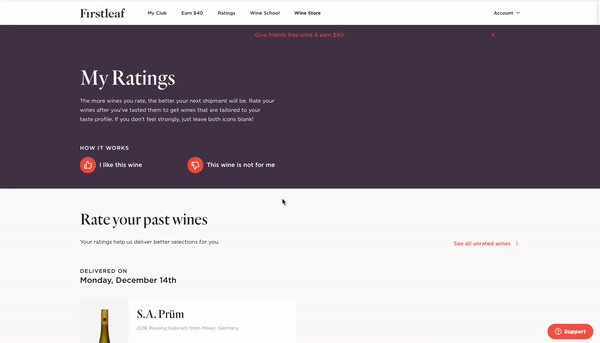 Please note - leaving a comment about a particular wine is very helpful to the Wine Concierge who help to curate an order for you! However, the comments will not exclude certain varietals or types of wine from your orders. The best way to let the algorithm learn your preferences is to rate with a thumbs up or down. If you would like to exclude a certain varietal, please reach out to us!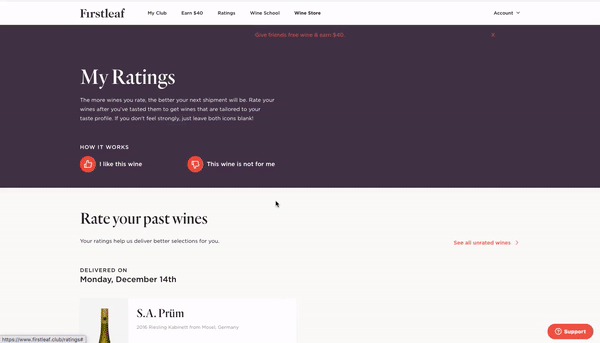 If you have any questions, feel free to reach out to us at service@firstleaf.club, or 1-800-461-7203 any time between 6 am - 5 pm PST. We're more than happy to help!