Due to the nature of the shipment, federal regulations require that the carrier receive a signature from someone 21 or up upon delivery. Please have your photo ID ready at the time of delivery!
Effective 06/28/22 FedEx shipments requiring an adult signature will also require a government-issued ID to be scanned at the point of delivery. The software does not record or store any personal data (e.g., driver's license number, birthdate, home address, etc.). It simply captures first initial, last name, and automatically verifies that age requirements are met for the package containing alcohol. For further details, please click here to view their new policy.

While we're required by law to make sure someone 21+ signs for the wine, we completely understand it's not always easy to be around when your delivery comes. Here are a few ways other members ensure dependable delivery of their wine:
1. Shipping orders to a business address or carrier holding location for pick up. Changing your address helps to be sure that UPS/FedEx delivers on the first attempt. Then you can pick up your order when it's convenient for you!
To manage your order, you can create a free account with either carrier by clicking the links below:
2. Postpone or delay the date of your next order, follow these easy steps:
Log into your account here
Go to the Club Orders page at the top of the screen
You can see the date of when your next order will ship
Click the date to make any changes to Frequency or Scheduling

Note: frequency can be set anywhere between 2 - 12 weeks

Select any date from the calendar, and click Save
You will see the message "Saved! We updated your settings"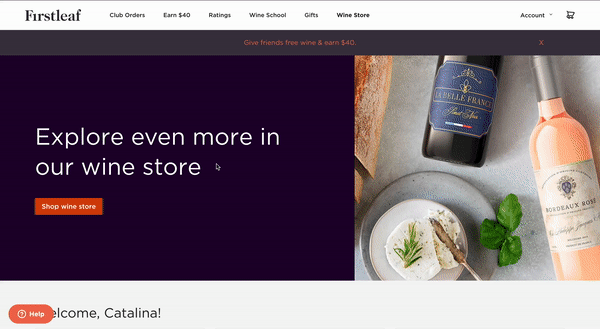 3. Change the address to a new location where you'll be able to sign
If you need assistance in redirecting an existing order, please reach out to us at service@firstleaf.com or 1-800-461-7203. We're standing by 7 days a week from 6am - 5pm PST, and are happy to help!
Please note: Redirect requests can delay your delivery for up to 2-3 days depending on location and where in the process your order is with the carrier.
If you need to update your shipping address for future deliveries, you can do so through these simple steps:
Log into your account here
Click on Shipping Addresses on the left-hand side
Here you can add a new address, edit an existing address, or delete an address from the account
When you add a new address, it is automatically set as the default address on your account.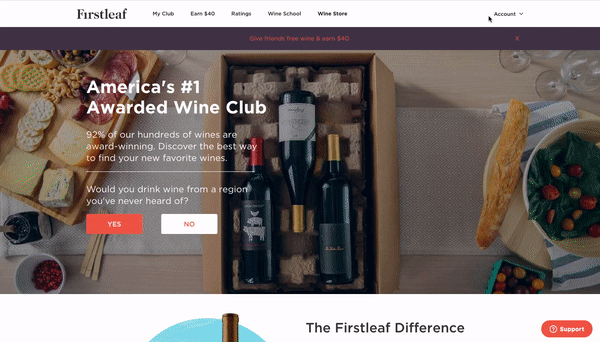 If for any reason when you scroll down and do not see Shipping Addresses, remain logged in your account and go here.
Clicking Reserve will lock in your ship date. If you view your wines and click Reserve the order, your wines will be reserved and your card will be charged.
If you have any questions or need further assistance, feel free to reach out to us at service@firstleaf.com. We're more than happy to help!